Wenta partner with UENI on campaign to build every small business in Britain a free website by Christmas
6 min read
Small businesses can get a FREE website built for their business through Wenta's partnership with UENI.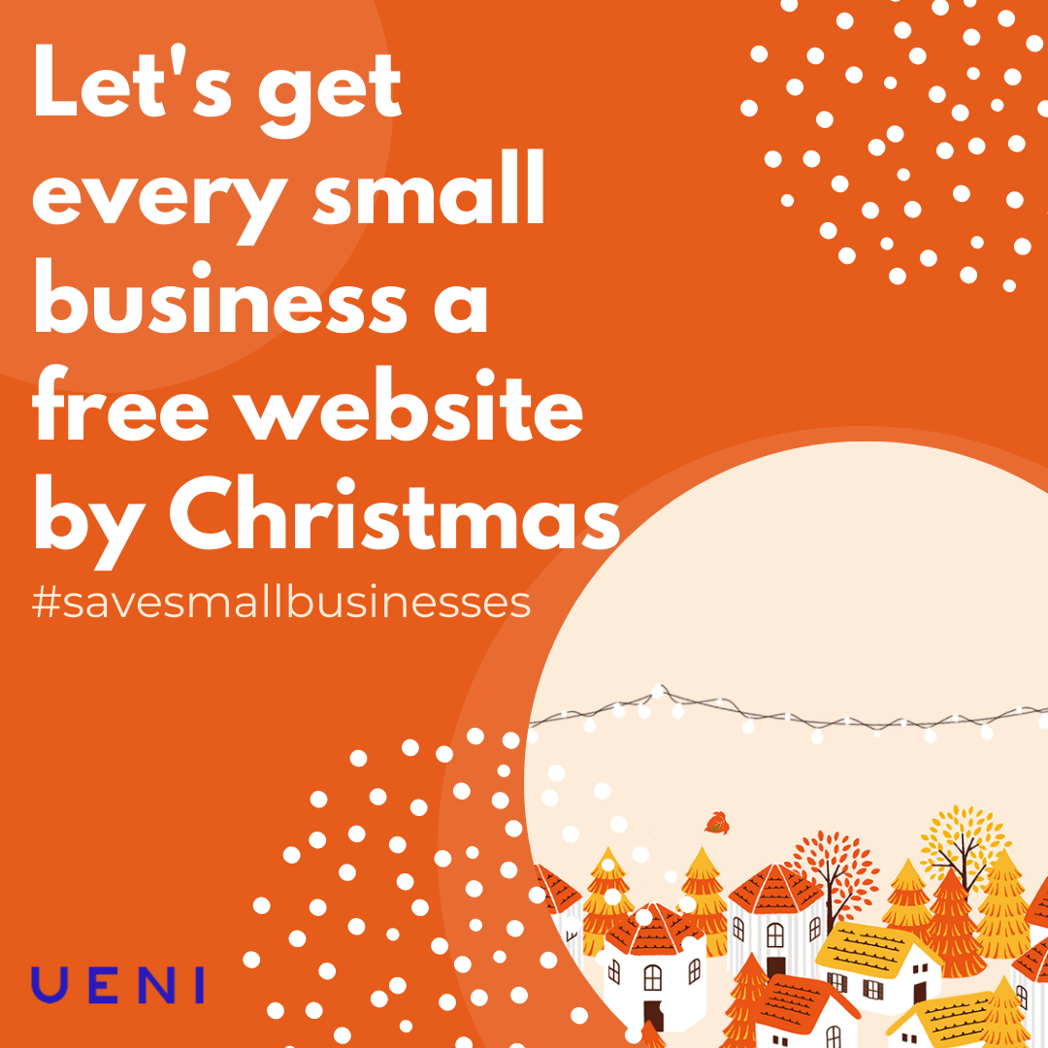 Wenta has partnered with expert website specialists, UENI, on their campaign to 'build every small business in Britain a free website by Christmas'.
At Wenta, we share the same vision as UENI in that every small business deserves to have a high-quality online platform that can sell their services and products. We also stand by the fact that we believe that all businesses, regardless of business stage, legal status, type, industry etc., should have access to this service for FREE, just like the advice and support we already offer. 

That's why we've teamed up with UENI to enable all business owners to have the option of having a new website created for them with no mandatory charges. With the second national lockdown in place and Christmas approaching, UENI have decided to accelerate their outreach and work towards building every small business in Britain a free website by Christmas.  
Elaborating on the campaign, UENI say:
"UENI's campaign is significant because the free websites we build come ready to sell products and accept bookings from day one. Our free website is an entry point into ecommerce at a time when so many businesses need the ability to sell fast, particularly with the holiday season upon us. This is a shift from the choices available to small business owners today, where they either need to spend time setting up the website by themselves or they need to spend big money on an agency to do it for them. UENI will do this for the small business for free so that it can start selling or taking bookings the same day.""
 Commenting on the partnership, Ed Jordan, Chief Executive of Wenta said:
"We want to support businesses to recover and grow through every means possible. Part of that is supporting them with their efforts to have an online presence and to be able to trade online. We look forward to supporting even more businesses through this collaboration with UENI.""
How do you get your free business website?
To get your free business website, simply book to join one of our free 1-hour website webinar sessions or book a free business advice appointment and request support with the 'website offer'.
On the webinar or your appointment, you'll be provided with a unique website URL containing a step by step online form for you to complete. If you need any help completing the form then one of our Advisors will be able to help you.
You'll be asked to answer a few questions about your business and then the UENI team takes that information and, through a combination of technology plus human capital, transforms it into a fully built, search-engine optimised website and Google My Business listing – free of charge.  You will then receive your website in 3 days or less. Once your website is live, you can jump into UENI's website editor and make any tweaks you like or to add more information. It's as simple as that. 
To get your free business website, you can book your free 'seat' at our website webinar or book for a business advice appointment. Simply select and click on one of the buttons below...
Book using one of the following links to claim your free website:
Book our free bite-size website webinar
Book a free business advice 1:1

Please note:

If you're booking via EventBrite please select 'Website offer' as the topic of your conversation.
If you are booking over the phone or via email, please let the team know that you are looking to discuss the free website opportunity.