Socially enterprising since 1983.
Every day we help businesses to start-up, grow and thrive. We exist to make things simpler and easier for anyone wanting to run their own business.We're a social enterprise, and as such, we're independent thinkers for independent business owners. We're committed to helping you. We're client-led and we'll deliver what you need us to deliver.  
As the world recovered from the 2019--2020 pandemic, Wenta continued to deliver increased support to businesses all over the UK in 2022-2023.
Businesses are starting, building and growing, following one of the most challenging times in Wenta's 40 year history.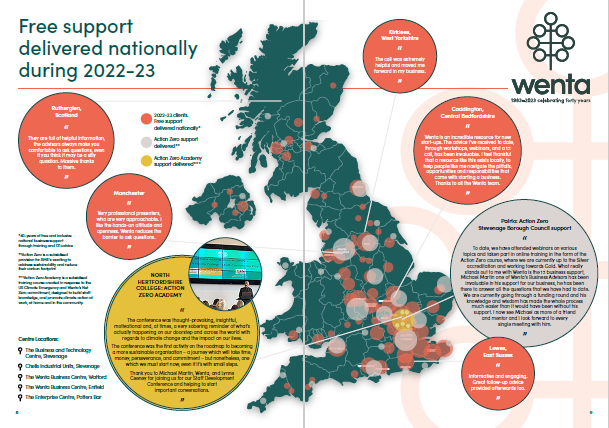 Businesses Supported Since 1983
"Wenta has made a substantial contribution to the well-being of start-up and early stage business in East Herts. They have also acted as a first port of call in helping to plan future services for businesses in this area."

Paul Pullin, East Herts District Council
"Wenta, it's somewhere you can escape for an hour, think about and talk about your business with a professional who knows what a small business needs to succeed!"

Charlotte Freeston-Clough, Hoot! Toys