Wenta provided over 43,000 hours of support to small business during 2022-2023.
Read more about the delivery of Wenta's free, national services in the Wenta 2022-2023 Annual Review.
As the world recovered from the 2019-2020 pandemic, Wenta continued to deliver increased support to businesses all over the UK in 2022-2023.
Businesses are starting, building and growing, following one of the most challenging times in Wenta's 40 year history.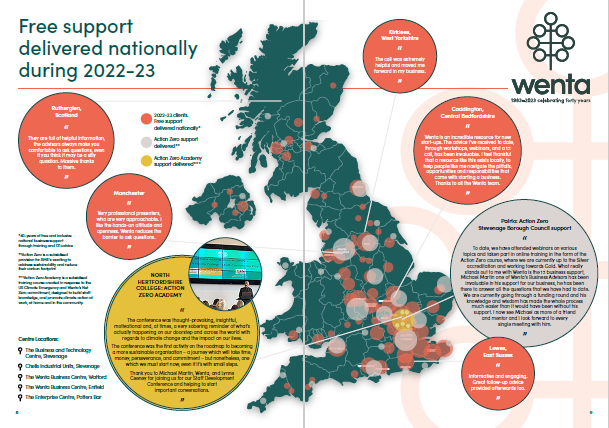 As part of the Wenta 2022-2027 strategy of Reach, Impact, Growth, Wenta built and launched new, inclusive digital services, including support for small businesses to tackle the Net Zero challenge.
"Since starting the business in 2021, Wenta has provided helpful support in numerous ways such as; allowing the expansion of our office space; providing support and guidance through the pandemic and, more recently, helping us on our path to Net Zero via their Action Zero programme." Oxhey Hall Consulting Ltd.

Not only supporting small businesses in tackling climate change, Wenta also started to measure and reduce their own carbon footprint: 
Read more on Wenta's support over the past year, the launch of CPD accreditation, Wenta's Net Zero journey and the 2022-2027 Strategy in the 2022-2023 Annual Review, available now.