Shadow Secretary, Dawn Butler, had a chance to stop by The Business & Technology Centre (btc) on Friday 8th November. Wenta was honoured to host and give many small female owned businesses based at the centre a chance to discuss their opinions on Dawn's proposed maternity leave policies and what influence it might have on them.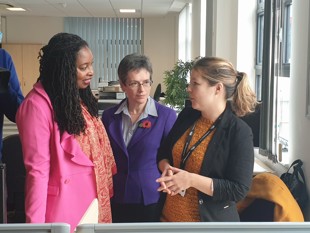 Dawn was welcomed by a handful of the team that work for Wenta and The Business & Technology Centre (btc) including Jennifer Condon, Head of Digital, Communications and Marketing and Jo Kiely, Centre Manager at btc Stevenage.  
The Wenta team introduced Dawn to members of the all-female recruitment company, Lawrence Dean, based at the btc which has fully embraced the positive effects of flexible working. Ms Butler recently announced new policies around flexible working and extending statutory maternity leave from 9 months to 12 months.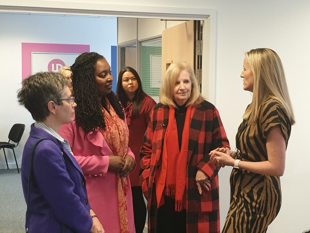 Whilst visiting the btc Dawn said: "My whole thing is just about respecting women, our bodies, what we go through, and making workplaces more acceptable and friendly so everybody can contribute to the economy."  Sourced from Daily Echo online.  
Jo Kiely, btc Stevenage Centre Manager, said: "It was great to catch up with Dawn today. It was a great opportunity for our female business owners to talk with Dawn about her policies and what it will give back to them in their future of the workplace." 
For more information on Wenta's Stevenage business centre and business start-up support services visit here.