My business journey: Swifty Scooters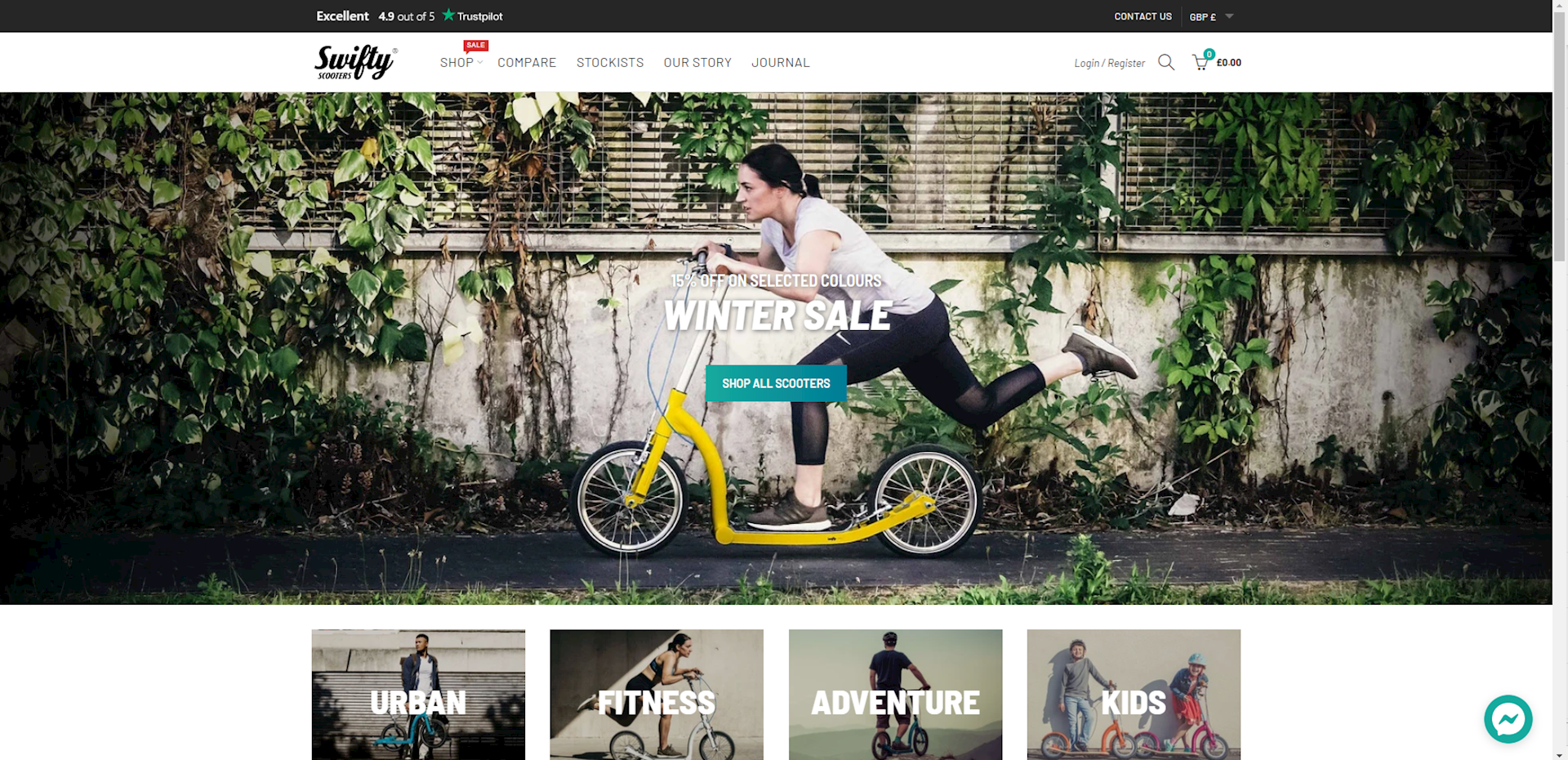 We are passionate about helping small business owners celebrate their achievements by sharing the story of their business journey. We hope that these real stories, like the one you are about to read, will inspire you and if you would like to share your journey with us please do get in touch.   
Swifty Scooters was founded by Jason and Camilla Iftakhar in 2011. Their vision is rooted in a shared passion for human-powered transport and a shared spirit of adventure. Swifty soon became their antidote to the stress and pace of 21st-century life, offering freedom to go anywhere, to beat queues without rushing, to move without following. 
A journey by kick scooter can take advantage of the parks and pathways, cycle paths and quiet roads. The 100 psi pneumatic tyres can handle mixed terrain, from grass to cobbles and in any weather. The Swifty scooter is a fun and fast alternative way to move in and around congested cities.  
Swifty is now known for manufacturing the most beautiful and innovative adult scooters - endorsed by high profile collaborations, notably The Conran Shop (London and Paris) and Paul Smith (worldwide). They now offer custom painted frames, which are hand finished in Swifty HQ in Salford, UK. 
We interviewed Jason and Camilla on the 1st of March 2017  
Could you explain to us what it is you do?  
We design and manufacture kick-scooters for adults - they're well made, feel great to ride and have large pneumatic wheels  
Can you tell us a little bit more about your background and what inspired you to start up your business?  
Founded by design duo Camilla and Jason Iftakhar 6 years ago, Swifty began as a last-mile solution for urban mobility with our foldable commuter scooter SwiftyONE - it's now become much more than that  
How did you go about setting up the company and developing your product range?  
We launched at London Design Week in 2011 where we had 20 scooters, all hand-built here in Manchester - we sold out in 3 days. We have grown organically ever since! Our product range grew as we discovered the potential in our scooters - we began riding them for longer distances and over rougher terrain  
What makes your business unique and differentiates you from your competitors?  
Because we use our own products every day, we really value the quality of ride over anything else - scooting has got to be fun, smooth and fast! And our scooters look really good too  
What have been the biggest challenges in business so far?  
The design is definitely the easy bit for us! - as for any start-up, the challenges to date have revolved around supply chain and cash flow 
What type of financial and mentoring support have you received?  
We've had support from the Manchester Growth Hub, Access to Finance and the DIT who have been great  
We all know that juggling a business is hard work, how do you manage your time and ensure everything gets done? 
We start work early and have a great team! Family time is important to us too as we have two young kids.  
What would you say is your proudest business moment to date?  
Probably our launch back in 2011 - we had a large export order and signed up our collaboration with Paul Smith which sold in 8 countries around the world in that week.  
What advice would you give to other entrepreneurs looking to set up their own business?  
Stick to your values when you have a tough decision to make - persevere and don't give up!  
What does the future hold - any exciting plans we should keep an eye out for?  
We have loads going on - we have a new adventure scooter SwiftyAIR arriving soon and a new super-light SwiftyONE Marine foldable scooter too!  
For further details on Swifty Scooters visit  www.swiftyscooters.com 
Please note: This interview took place on the MiVentures platform which is owned and managed by Wenta.