My business journey: Sarah Rennie
We are passionate about helping small business owners celebrate their achievements by sharing the story of their business journey. We hope that these real stories, like the one you are about to read will inspire you and if you would like to share your journey with us please do get in touch.   
Sarah Rennie, founded Advextra VA - a virtual assistant (PA) service in 2016 after taking voluntary redundancy from her Civil Service job of over 17 years. Sarah has experience of providing PA support to a Regional Chair and Office Secretary support to a small Team and Committee, which had included planning and running events.  
She has recently completed the Pearson BTEC and Edexcel NVQ Level 4 Diplomas in Business Administration and also has completed the LCCIEB Executive Secretary's Diploma and the RSA Diploma in Administrative and Secretarial Procedures. 
Sarah's motivation for launching Advextra VA Ltd was to use her skills and experience to help not just one boss! 
We interviewed Sarah on the 1st of November 2017.  
Can you tell us about your background and what inspired you to start up your company?  
From over 17 years of providing PA/secretarial support to a small team & committee, + over 9 years hotel & catering experience.  
My main motivation for launching my company was to use my skills & experience from my background to help not just one boss!  
What were the biggest challenges when setting up your business?   
Coming from a Civil Service background, my biggest challenge for my business was to learn about running a business itself!  
And then finding those initial clients, as I didn't have the "word of mouth" contacts.  
What type of financial and mentoring support have you received?  
I received financial & mentoring support from the New Enterprise Scheme, who helped me with setting up a Business Plan.  
And I am now currently receiving mentoring support from The Women's Organisation.  
What virtual assistant (PA) services do you provide and what makes your business unique?  
The services are typing & data entry; social media scheduling; corporate event mgt; diary mgt, accommodation & travel planning.  
I make sure each client receives an individual virtual (PA) service, at a good price, which is personalised & unique to them.  
What would you say is your proudest business moment so far?  
Learning how to run a business! I did this online/courses at Mcr Ctrl Library. It's been a learning curve, but I've enjoyed it!  
Followed closely by helping to organise & run the Rochdale Biz Show 2017.  
What sacrifices have you had to make to run your own business?  
The biggest sacrifice I made to run my own business was to not have that daily face to face contact with your colleagues.  
I have overcome this sacrifice by attending various networking events & expos.  
How many hours a day do you work on average?  
I aim to work on clients work for 5 hours a day on average, therefore leaving 2 hours a day to work on my business itself.  
What does success look like to you?  
My aim for success is to expand & employ staff after five years. Advextra VA – efficient, effective, virtual admin.
Saves people time/money & benefits them, is an 'Advantage' & provides them with support for their business - 'Extra' services.  
What does the future hold? Any exciting plans we should keep an eye out for?  
This Friday I am attending a mentoring session on the Small Business Saturday bus tour.  
Followed by a reception for the Rochdale 30 as Advextra VA Ltd has been selected as one of the 30!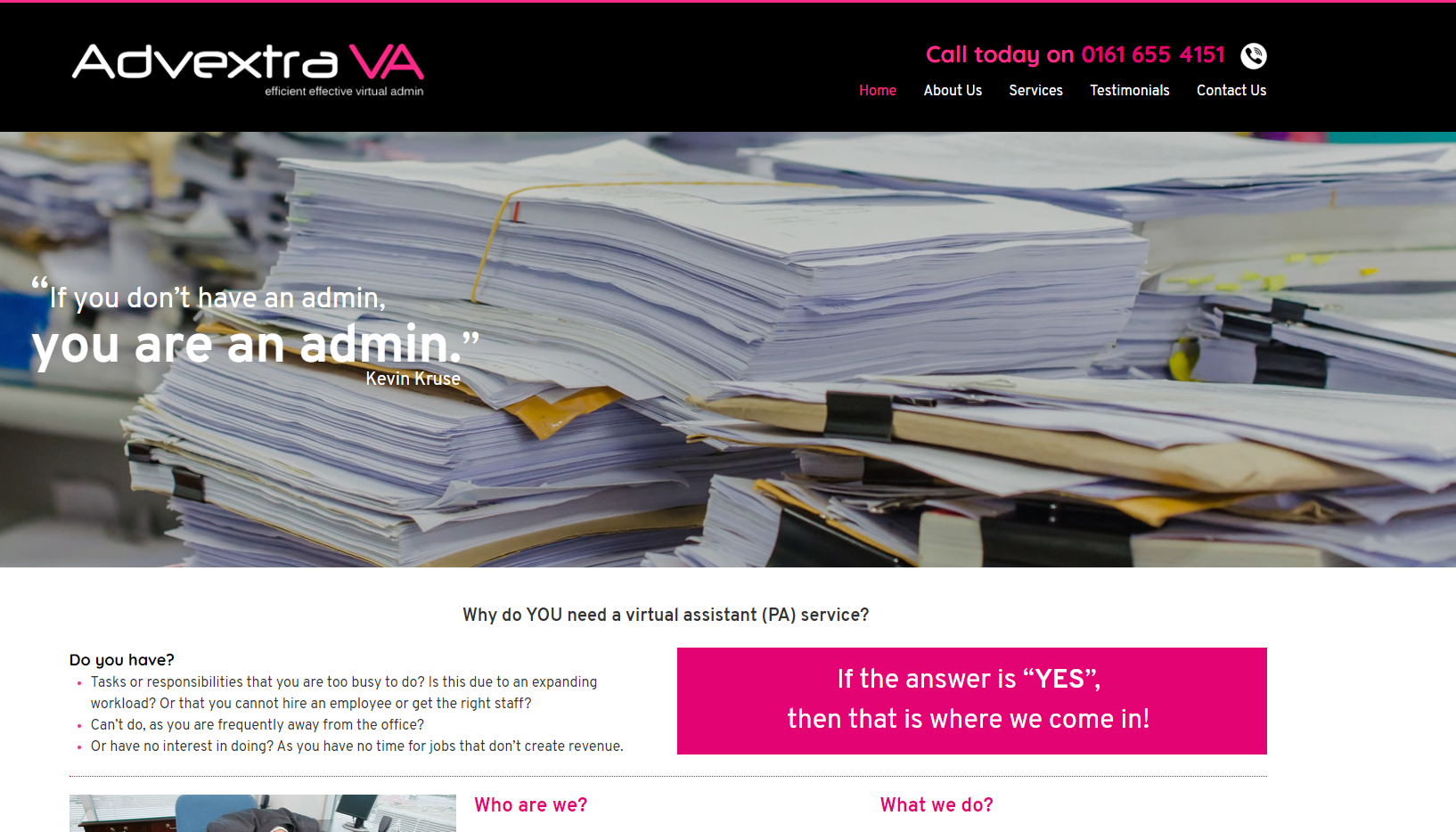 For further details on Advextra VA  visit www.advextrava.com
Please note: This interview took place on the MiVentures platform which is owned and managed by Wenta.