My business journey: Claudia and Fin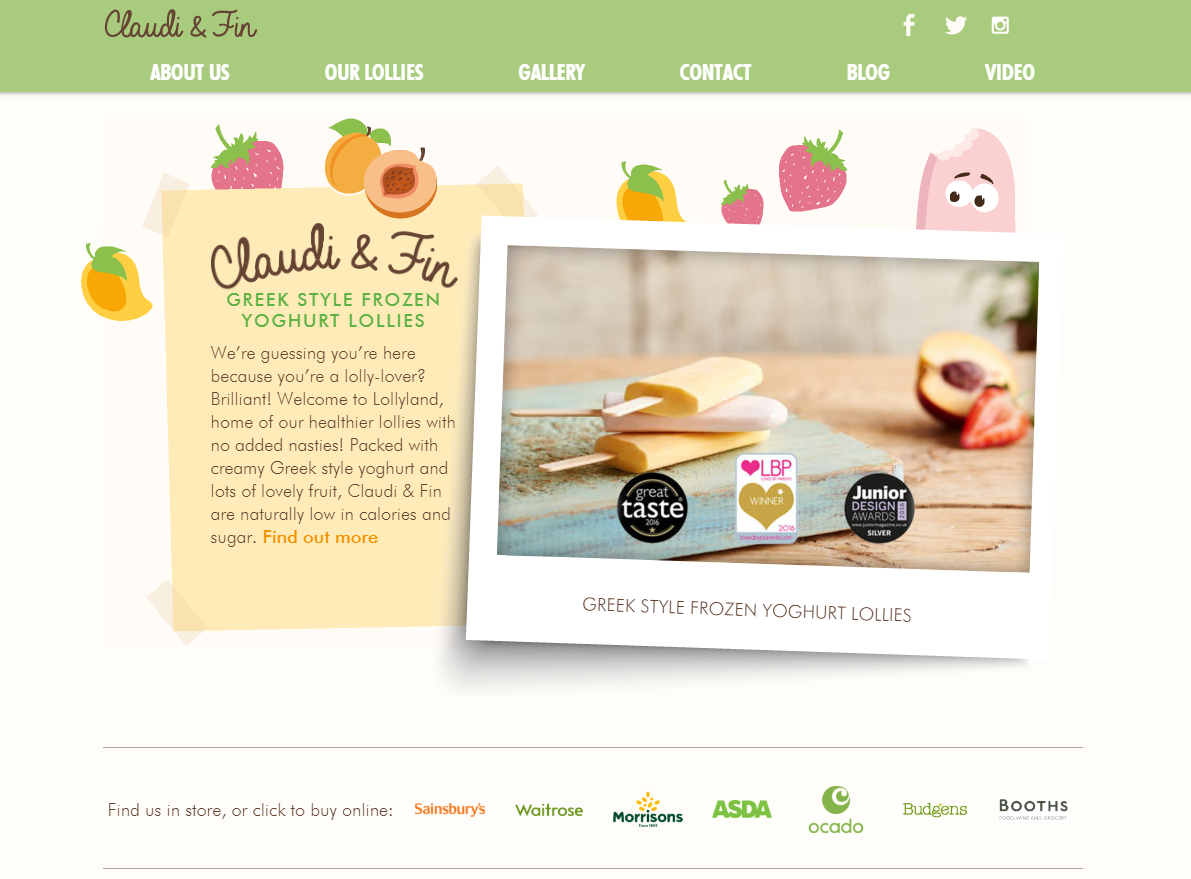 We are passionate about helping small business owners celebrate their achievements by sharing the story of their business journey. We hope that these real stories will inspire you and if you would like to share your journey with us please do get in touch.   
Lucy Woodhouse and her co-founder Meriel Kehoe met at a playgroup when their children, Claudia and Fin were very little. The pair bonded over their inability to do the actions to 'Wheels on the Bus' and a firm friendship was formed.  
As the months went by, they discovered a mutual love of great-tasting, healthy food, especially for children. After struggling to find any natural ice lollies with wholesome ingredients, they set about making their own at the kitchen table. After months of taste testing, they perfected the recipe for Claudia & Fin's first product – a naturally delicious frozen lolly made with Greek-style yoghurt, real fruit and vitamin D. The lolly was a hit with their children and chief taste testers (Claudia and Fin), but also with Sainsbury's, who were so impressed that they put it straight into their stores. 
Claudi & Fin Greek-style frozen yoghurt lollies are currently available in two flavours; strawberry and mango.  You can find Claudia & Fin in stores including Sainsbury's, Waitrose, Ocado, and Budgen's. 
We interviewed Lucy on 11th of May 2017.  
For those that don't know could you just explain to us what it is you do?                                          
We make naturally healthier frozen desserts including delicious 100% natural Greek Style Frozen Yoghurt lollies. 
Can you tell us about your background and what inspired you to create your brand?  
My background is brand and marketing. The inspiration came when we were browsing the frozen aisles looking for lollies to feed our children. Everything was full of sugar and nasty ingredients and looked like it did in the 70's! Frustrated we got in our kitchen and made our own!  
How did you develop the flavours for your frozen yoghurt lollies?  
We spent a long time making flavours we thought might work but didn't! It was always fun tasting them though.  In the end it was obvious, we worked with fruits that when paired with Greek yoghurt tasted the best.  
What have been the biggest challenges of setting up your company?  
We went from never having sold a single lolly to anyone to having to supply 250 to sainsburys stores! That was an exhilarating challenge!  We had to learn so much, so quickly and we didn't want to compromise on taste or packaging, so it was an intense journey to launch day!  
Have you received financial and mentoring support?  
Yes both through Start-up Loans. It came at just the right time and helped us establish a stronger financial position and understanding.  
What would you say is your proudest business moment so far?  
I have two moments that have made me as proud as punch! Representing small business at Number 10 with the brilliant Enterprise Nation and launch day at Sainsburys - before I got to the shelves, I saw a little girl with a box of Claudia and Fin under each arm at the till!  
Any business regrets at all? Looking back, is there anything you would now do differently?  
Probably a million! I think having a clearer idea of our goals and strategy beyond just getting on the supermarket shelves would have helped but as a start-up it's difficult to see beyond that in the beginning.  
What motivates you to come into work every day?  
We're very proud of the lollies we've created. They taste amazing and are a naturally healthier choice for families. We're challengers in the ice cream category and will continue to do so.  
What does the future hold? Any exciting plans we should keep an eye out for?  
We have four new products we're working on and hope to venture into another category with more delicious and healthier foods for the family.   
Finally what advice would you give to other entrepreneurs looking to set up their own business?  
Know your customer and always try and remember them at every decision-making stage. And make sure you have a relevant point of difference.  
 For further details visit www.claudiaandfin.co.uk
Please note: This interview took place on the MiVentures platform which is owned and managed by Wenta.