My business journey: Angela Steel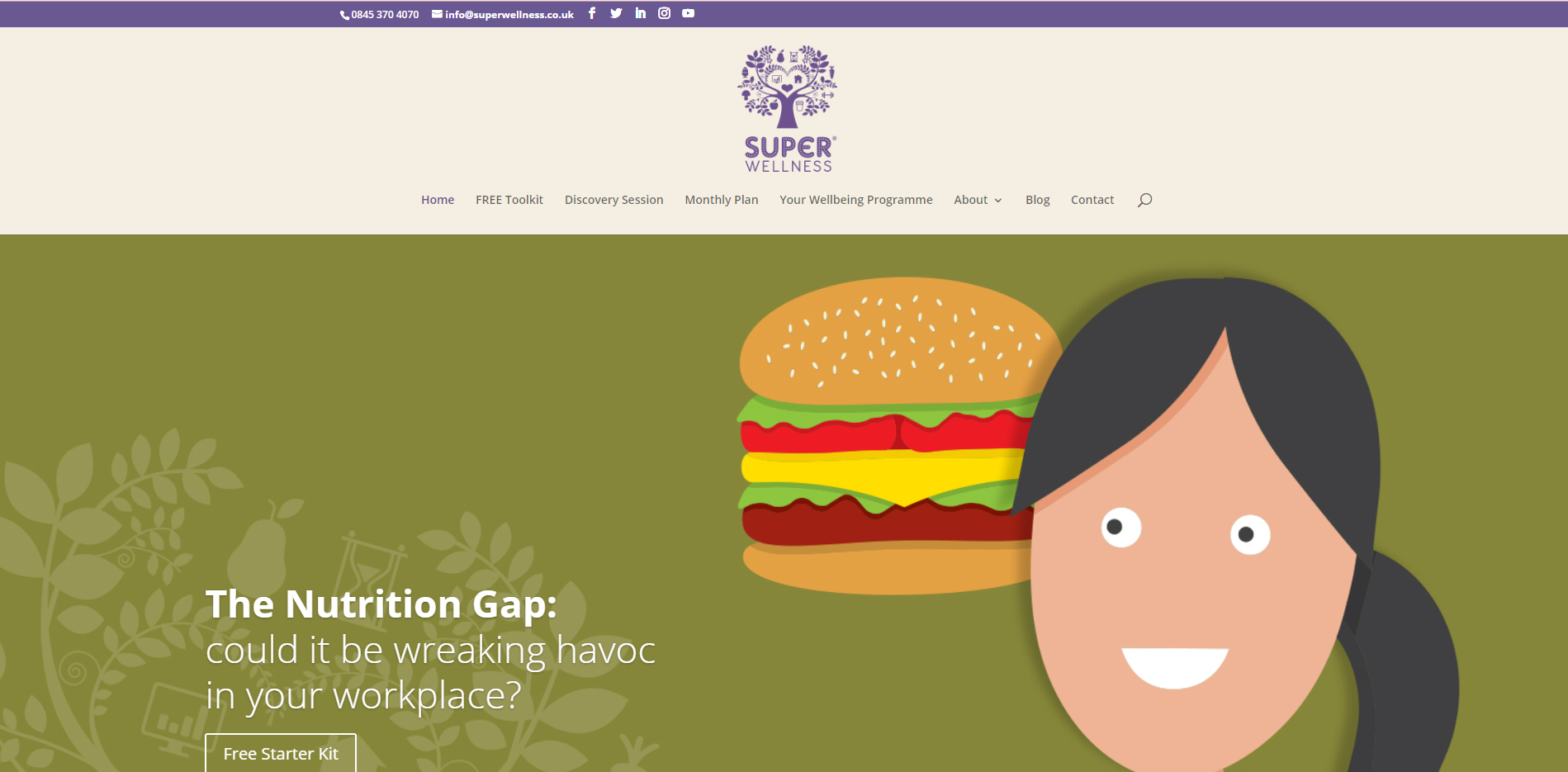 We are passionate about helping small business owners celebrate their achievements by sharing the story of their business journey. We hope that these real stories, like the one you are about to read, will inspire you and if you would like to share your journey with us please do get in touch.   
Angela Steel qualified as a naturopathic nutritionist in 2009, after 14 years in technology marketing and discovering the impact that nutrition had on her health, physically and mentally. Super Wellness was founded by Angela in 2011.  She has since built a team of dedicated experts who work with her to deliver the tried and tested Super Wellness employee wellbeing programmes. These include corporate nutritionists, stress management specialists and lifestyle coaches 
She won Entrepreneur of the Year in the 2016 SME Surrey Awards. 
We interviewed Angela on the 29th March 2017.  
Could you just explain to us what it is you do?  
My business Super Wellness specialises in nutrition centred wellbeing in the workplace, helping employees feel great.  We focus on small adjustments to their everyday eating to improve areas such as sleep, energy and concentration.  Our most popular programme is the 3-month nutrition challenge which delivers measurable improvements in 9 areas.   
Can you tell us about your background Angela and what inspired you to create Super Wellness?   
I worked in technology sales and marketing for 15 years. I used to struggle to eat well at work and felt tired all the time.  Later I went on a fast and felt amazing. It made me realise how much what we put in our mouth affects how we feel, so I retrained in nutrition for 3 years and eventually left to start Super Wellness.   
What do your employee wellbeing programmes cover?  
We often design our programmes to fit with seasonal health campaigns. For example, at the moment we're planning activities around allergy awareness week in April.  The activities we offer include seminars, 'touch & taste' sessions, smoothie competitions, screenings and catering consultancy.  
What makes Super Wellness unique and differentiates you from your competitors?  
Our collaborative model. We have 20 licensed associates around the UK who are qualified nutritionists.  They are also subject matter experts in different areas, such as stress, sleep, performance, etc so we provide a wide curriculum. Nutritional science is always evolving so content quality and scientific evidence is really important.   
What support – financial and mentoring – did you receive when starting up?  
I started with some savings, and when they ran out, I just had to focus on generating revenue which was good for focus!  On the mentoring side, I joined the Growth Accelerator initiative in 2014 and met a brilliant mentor who is now a non executive Director of Super Wellness and her guidance in building the team has been invaluable.  
What would you say is your proudest business moment to date?  
We've grown in size and confidence and it was really brought home to me earlier this month when we were at the Health & Wellbeing at Work Show at the NEC. Our stand was buzzing and I felt so proud of the team!   
What sacrifices have you had to make to become an entrepreneur?  
In the short term, personal income – I still reinvest a large proportion of revenue into the business.  Also, leisure time and a social life. My business gives me a strong purpose and I live and breathe it. I don't regret any of these sacrifices though, and eventually I'm getting more of a balance.  
What motivates you to come in to work every day?  
The work we do is extremely rewarding, in terms of the positive changes it can bring for the employees on our programme.  I find the challenge in itself very motivating – it spurs me on to want to see just how far we can go!  One big factor that gets me out of bed was the fear of failing and ever having to go back to work for someone else.  
What does the future hold - any exciting plans we should keep an eye out for?   
Recently we've just launched MySleepCode, which is a personalised sleep programme, based on genetic testing.  We've collaborated with LifeCodeGx on the genetic testing side. It looks at 18 genes that can impact on sleep.  We're really excited about it as it helps to prioritise what's most effective for the individual.    
Finally, what advice would you give to other entrepreneurs looking to set up their own business?  
Be prepared to be tenacious and trust your own common sense and instincts.  There is no magic 'formula for success' and you can end up wasting a lot of time with advice that's idealistic.  The best way is by implementing, getting feedback on your idea and adjusting it until you find the sweet spot.   
For further information on Super Wellness visit www.superwellness.co.uk 
Please note: This interview took place on the MiVentures platform which is owned and managed by Wenta.
We're here to help. Get in touch.  
Book your free appointment below:
;