My business journey: Andy Stephenson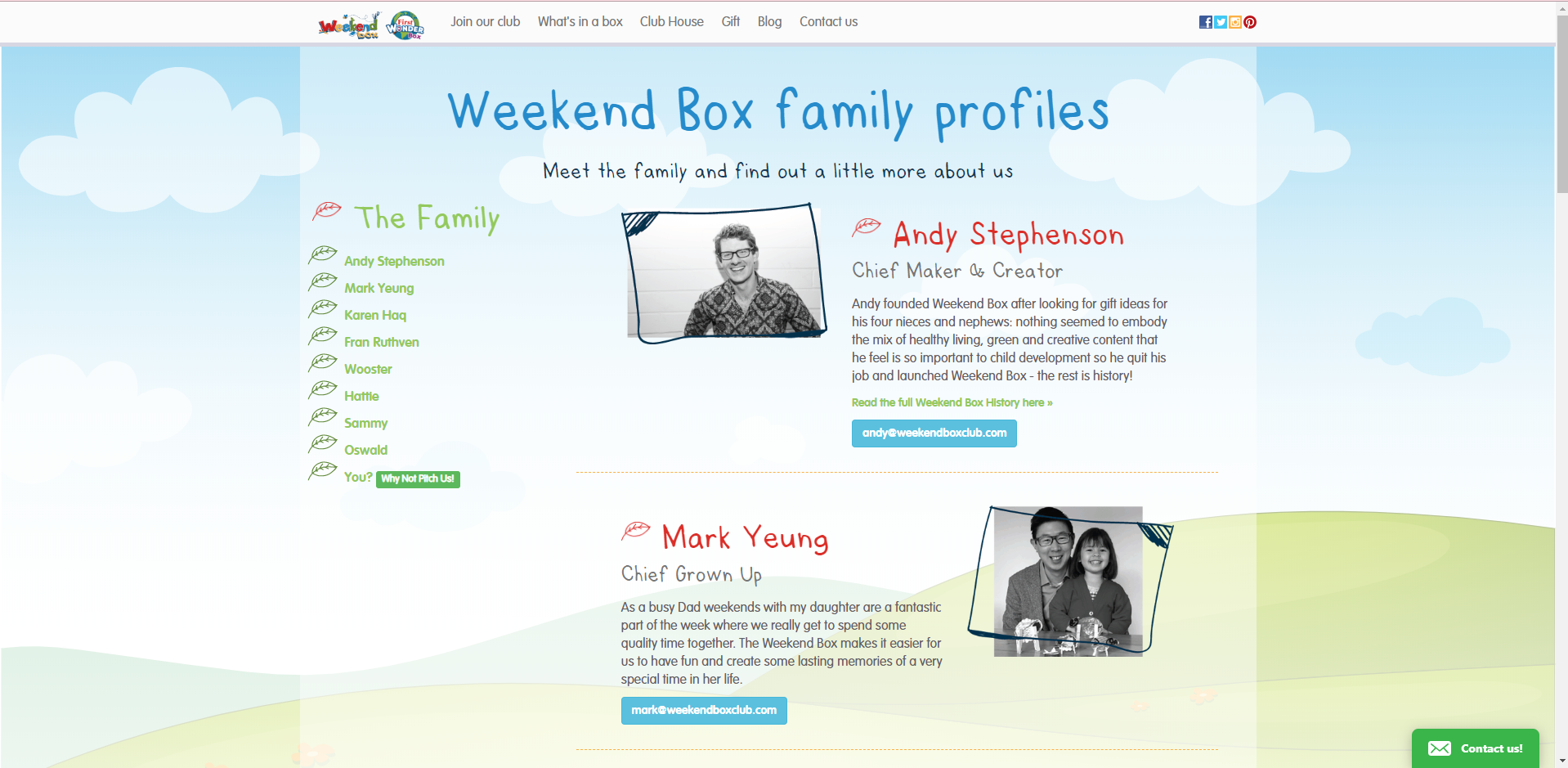 We are passionate about helping small business owners celebrate their achievements by sharing the story of their business journey. We hope that these real stories, like the one you are about to read, will inspire you and if you would like to share your journey with us please do get in touch.   
Andy Stephenson founded Weekend Box when he was looking for gift ideas for his four nieces and nephews one day: nothing seemed to embody the mix of healthy living, green and creative content that he felt it so important to child development so decided to quit his job and launch Weekend Box in April 2013. 
Prior to Weekend Box, Andy received a BSc in Software Engineering and MSc (Research) in Technology Enhanced Education from Durham University. Having settled on his passion for technology and education, Andy was recognised with his undergraduate dissertation being selected for publication in 2010. 
Following university, Andy was asked to become the technology-lead for Zeco Energy - a smart energy monitoring business - creating its entire cloud-based smart-energy monitoring and management system as well as helping the company raise £300k in investment. 
Since starting Weekend Box, Andy has guided Weekend Box to multiple award wins (including the Start-Up Loan Company 'Start-Up of the Year') as well as overseeing the rapid expansion from packing boxes in a living room to two offices and a warehouse with over seven staff. Most recently, Andy completed a £150k partnership deal between Weekend Box and France's largest bakery retailer, Brioche Pasquier. 
Andy is a regular commentator on start-ups and small business issues on the BBC and has most recently been invited to contribute to a round-table event at Downing Street around policies to develop greater entrepreneurship in the UK as well as sit on a panel with Sir Richard Branson on ways to kick-start a business. Andy's passion is in creating innovative, engaging products that allow more in-depth human interaction. 
We interviewed Andy on the 22nd of March 2017 
Could you first explain to us what it is you do?  
Weekend Box deliver activity boxes for 3-8s through the post, with things to make, bake, explore and more inside!  
Can you tell us about your background and what inspired you to set up your business?  
I was looking for gift ideas for my niece and nephew but didn't want to buy anything plasticky; I started experimenting with boxes and the rest is history!  
How does the Weekend Box Club work?  
You join online and choose fortnightly or monthly boxes then we send amazing activities with everything you need through the post. You can pause or cancel anytime too!  
Who is your target market and what do you include in the box?  
Time-poor parents who love quality time with their children but don't have time to trawl the shops for craft bits; we source everything and deliver through your letterbox! 
What have been the biggest challenges of setting up your business?  
Coping with a fast-growing business is always the hardest challenge and always throws up things you never plan for, but they're good problems to have!  
What type of financial and mentoring support have you received?  
We've received funding through Northstar Venture Capital Funding and Start-Up Loans and countless hours of support from so many people, which has really helped us scale much quicker!  
How do you advertise your business?  
We use digital marketing, like Twitter.  
What would you say is your proudest business moment so far?  
Seeing all the photos we get sent in from our customers every weekend really makes all the long hours worthwhile!  
What does success look like to you?  
Running a values-led business that makes a positive change to the world, that people can use to enjoy more quality time with their family  
What does the future hold - any exciting plans we should keep an eye out for?  
We're working on some really exciting Top-Secret projects at the moment but we'll be announcing these in the next couple of months, so stay tuned!  
Please note: This interview took place on the MiVentures platform which is owned and managed by Wenta.