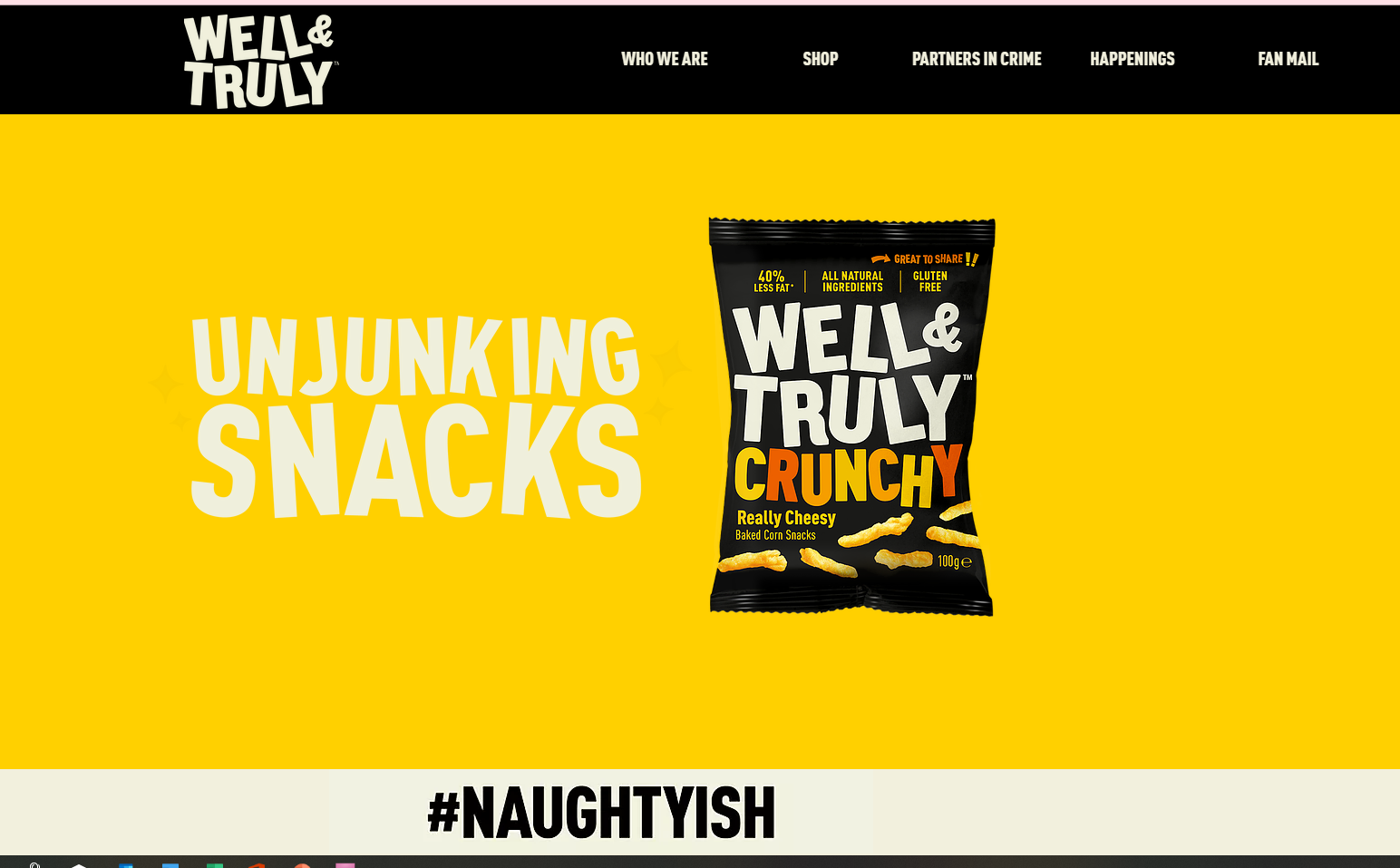 We are passionate about helping small business owners celebrate their achievements by sharing the story of their business journey. We hope that these real stories, like the one you are about to read, will inspire you and if you would like to share your journey with us please do get in touch.   
Sara Trechman and Maria Trechman set out to change snacking so that healthier didn't mean boring or tasteless.  
Well&Truly was born in 2016 because they saw a gap in the market for an innovative and exciting British brand with great tasting snacks that were also better for you whether it is lower fat, fewer calories or lower sugar. With 55% of the UK's population buying into FreeFrom they knew that allergen free products were extremely important. All their products are vegetarian and certified gluten free – and above all taste just as good or better than the unhealthy versions. 
The brand is built upon making small choices towards a better diet, using creativity rather than additives to make an interesting and tasty product. Using familiar snacks that appealed to the mass market, they took away artificial flavourings and nasties to make a range of heathier snacks. 
We interviewed Sara and Maria on the 26th of April 2017.  
Could you just explain to us what it is you do?  
We are Well&Truly a snacking brand that believes in keeping things simple! Using familiar snacks that appeal to the mass market, we removed the nasties to make tasty healthier snacks. 
Can you tell us about your background and what inspired you to startup your business?  
We both worked in FMCG companies for over 8 years, I was in marketing and Maria in sales.  We saw a gap for great tasting snacks that were also better for you whether lower in fat or sugar and gluten free.  
How did you develop your snacking product range and what are the nutritional benefits?  
We picked household favourites and looked at how we could make them healthier but still delicious.  All our products are 100% natural, lower in fat or sugar, gluten free and vegetarian.  
How was distribution secured with stockists such as Tesco and WholeFoods?  
It's all about persistence. Sometimes you'll be lucky and a buyer will give you their time, otherwise you'll have to try harder.  We found that having a unique proposition and a brand built on the wants and needs of the UK consumer helped us grab the attention of the buyer.  
What type of financial and mentoring support have you received?  
We were lucky to meet RCP who supported us through our first round of investment and made sure our financial structure was set up.  Being co-founders means we always have each other to bounce ideas off and challenge our thinking.  The start-up world in London is also a great source of support and always willing to meet up to share learnings.  
What would you say is your proudest business moment so far?  
Securing our first listing with Tesco and jumping for joy when we saw our packs on the shelves for the first time  
What have been the biggest challenges of setting up your company?  
Juggling so many roles and tasks which you don't always have experience in is our biggest daily challenge.  
What sacrifices have you had to make to become an entrepreneur? 
We wouldn't call them sacrifices as they don't feel like that but it is true you work harder and don't really have days off.  
What does the future hold? Any exciting plans we should keep an eye out for?  
We will be launching 4 new products and will be going into convenience with our single-serve bags.  
What advice would you give to other entrepreneurs looking to set up their own business?  
Do it! It's the best thing we've ever done but make sure you have a good network around you to help guide you when you need it. 
For further details on Well&Truly visit www.wellandtruly.co.uk 
Please note: This interview took place on the MiVentures platform which is owned and managed by Wenta.
We're here to help. Get in touch.  
Book your free appointment below:
;