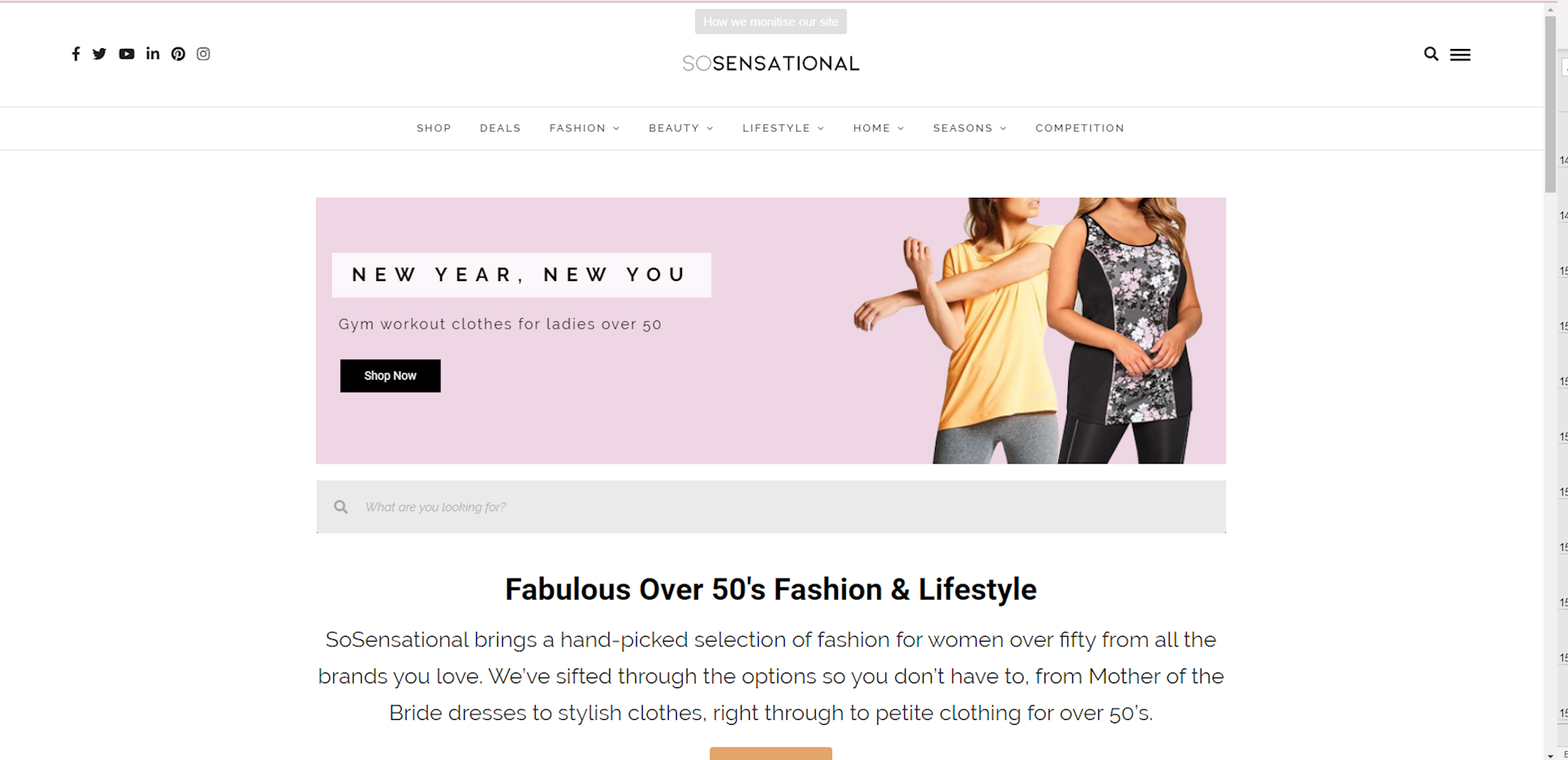 We are passionate about helping small business owners celebrate their achievements by sharing the story of their business journey. We hope that these real stories, like the one you are about to read, will inspire you and if you would like to share your journey with us please do get in touch.   
SoSensational is an online fashion and beauty shop for women aged 50 plus. Jan Shure and Cyndy Lessing constantly trawl the fashion collections to handpick the most beautiful and on-trend clothing and accessories for women to buy online.  
Jan Shure is an experienced co-writer and commissioning editor with extensive experience in features and women's interest subjects. An award-winning journalist she had a 35-year career with a publication that was renowned as a taste-maker. Jan has acknowledged expertise in fashion, travel, health and beauty and focuses on the creative side of SoSensational. 
Cyndy Lessing is a serial entrepreneur. She has built a number of successful businesses and runs the commercial, operational and financial side of SoSensational. 
We interviewed Jan and Cyndy on 8th February 2017 
Could you explain to us what it is you do?  
We offer online fashion and beauty for 50+ women. With edited fashion and authoritative style-advice, we're unique in that market  
Can you tell us about your background and what inspired you to set up your business?  
I had a 35-year media career. Cyndy built 5 successful businesses before training as an image consultant.  Friends were always asking us where to buy fashion now they were older. SoSensational was to help them and all women over 50  
Could you explain more about SoSensational how it works?  
A website with fashion from hundreds of brands; all chosen to be right for a 50-plus woman. There's also style-advice  
What were the key considerations when developing your website?  
It had to be easy to use and allow women to find fashion help, advice and products she wanted at 50-plus  
How do you market your business?  
Of course, we use social media – Twitter, Facebook, Instagram, Pinterest – alongside video and some conventional PR  
What has been the biggest achievement of your business career?  
Winning a Times/Vodafone Business competition against stiff opposition and surviving three horrendous challenges  
Any business regrets at all - looking back, anything you'd have done differently?  
Perhaps sought investment sooner; by starting, we are judged on results which have been badly impacted by those challenges  
In your opinion, what are some of the key characteristics behind becoming a successful entrepreneur?  
Thinking flexibly while never losing your passion for the goal or your belief in your brand  
What do you think the current environment is like for people looking to start up a business?  
Uncertainty has hardened the market and fashion is tough as brands move from bricks to clicks. Really sound ideas will succeed  
What advice would you give to other entrepreneurs looking to set up their own business?   
It's essential to really understand how social media works and use it from the start. And don't be a woman over 60!  
 For further details on SoSensational visit www.sosensational.co.uk.  
Please note: This interview took place on the MiVentures platform which is owned and managed by Wenta.
We're here to help. Get in touch.  
Book your free appointment below: