We are passionate about helping small business owners celebrate their achievements by sharing the story of their business journey. We hope that these real stories, like the one you are about to read, will inspire you and if you would like to share your journey with us please do get in touch.   
Pringle Accountants is a small Rochdale based Chartered Accountancy firm specialising in start-up and micro-businesses.  Ruth Pringle set up the business in 2012 with a vision to support business owners using the skills she'd gained during a varied career working in practice, industry and the public sector. 
As well as offering a full range of accountancy services, Ruth has also been involved in training delivery to empower first-time entrepreneurs to manage their business finances.  She founded Rochdale Jelly, a co-working group to tackle some of the difficulties of lone working and has been the driving force behind the "Rochdale Loves Small Business" initiative which is Rochdale's celebration of Small Business Saturday. 
We interviewed Ruth on the 28th of June 2017.  
Could you explain to us what it is you do?   
I support small businesses, mainly with finances but also on a wider scale within my local community.   
Can you tell us a little more about your background and what inspired you to set up Pringle Accountants?  
Initially, I was a bit of a reluctant entrepreneur and started my business out of necessity for flexibility for my young family.  But I've discovered a real passion for what I do.  I love being able to empower other business owners struggling with tax and finances so they can successfully run their business.  
As a startup business were there any particular difficulties that you encountered and how were these overcome?  
The biggest issue as a startup is the skills gap – it's terrifying when you first realise how much you don't know.  I took advantage of free local business support and got involved with loads of small business groups.   
What is your involvement with Rochdale Jelly and how can this help small business?  
Rochdale Jelly is a coworking group meeting every month at CockaDoodleMoo in Rochdale.  A bit like networking but without the sales pitches and people are generous with valuable advice.  It's a chance to get together with other businesses and share the joys and frustrations of running a business.   
What kind of business support, financial and mentoring, have you received?  
I got some amazing support from Blue Orchid when I first started although sadly that's no longer available in my area.  My main source of support now is an amazing network of other small business owners who, between them, seem to know everything!  
So what makes your company unique – what differentiates you from your competitors?  
Ridiculous as it sounds, I am what makes my business unique.  I'm proud of the relationships I have with my clients and how we work together on their businesses.  
What should a startup business consider when looking for an accountant? 
Most importantly you've got to get on with your accountant because you need to work together, so find someone you like.  Look for firms registered with a professional body to give you more protection if things go wrong.  You can usually get a feel for a firm by researching them and decide if they're a good fit.  A lot of accountants will offer a free initial meeting, so meet them and see if they're someone you could work with.   
What motivates you to come into work every day?  
Empowering my clients to run their businesses and standing in the gap with the taxman! Having the ability to take away the fear is amazing. 
What does the future hold for you? Anything exciting we should keep a look out for? 
I'm currently involved in the Rochdale Loves Small Business initiative and we have some ambitious plans for Small Business Saturday this year.  Look out for the Rochdale Business Show and the Rochdale 30 coming up later in the year.   
Finally, what advice would you give to other entrepreneurs looking to set up their own business?  
Definitely find yourself a good support network of other small businesses and business advisors.  There are loads of hurdles but plenty of people have found solutions to the same problems.  Invest in good advice right from the beginning to get your business off to the best start.  Starting a business can feel so isolating, but there are plenty of us out there who can all offer the benefit of our experience.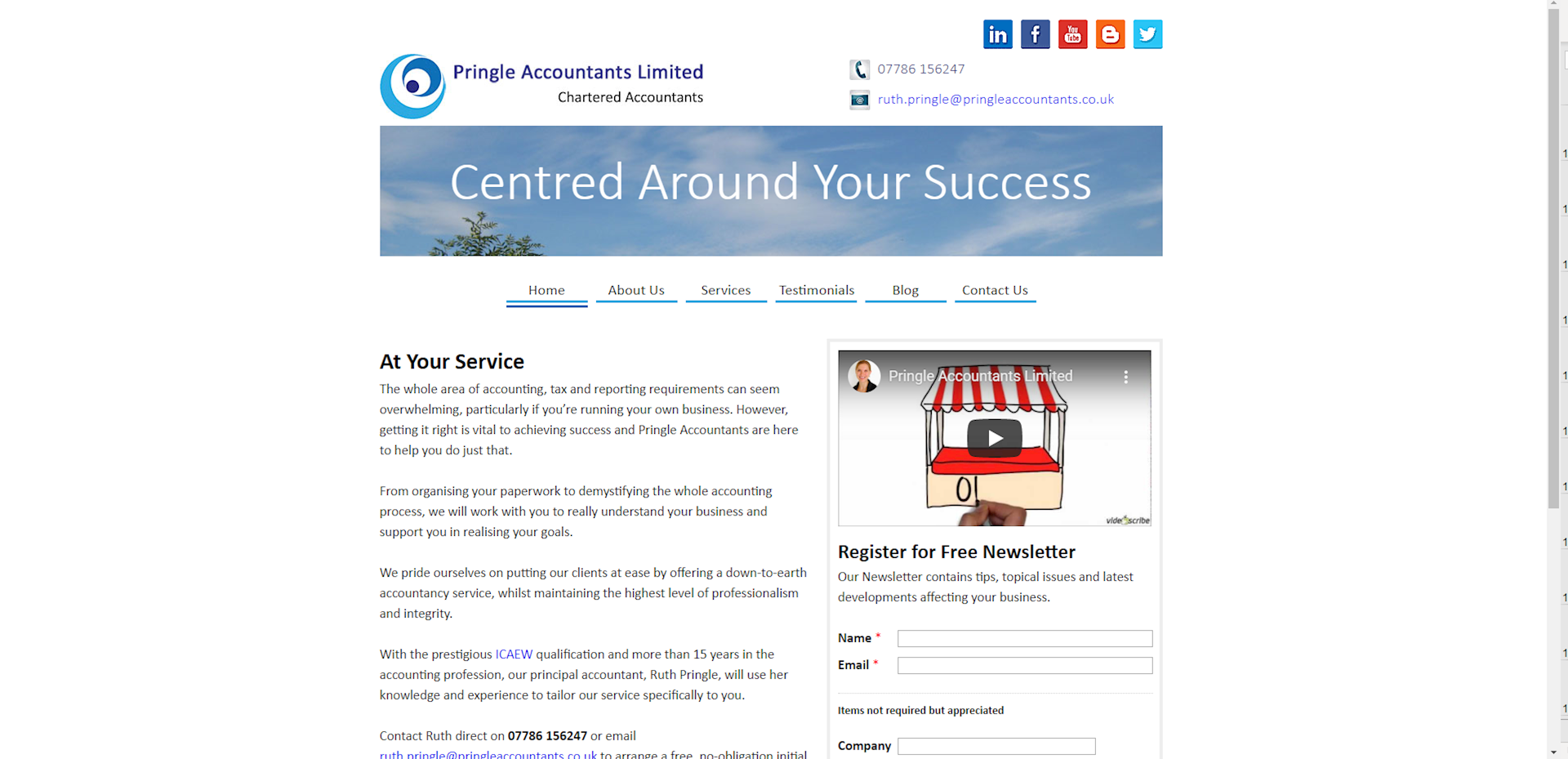 For further details on Pringle Accountants visit www.pringleaccountants.co.uk  
Please note: This interview took place on the MiVentures platform which is owned and managed by Wenta.
We're here to help. Get in touch.  
Book your free appointment below:
;