Trust Business Partners LLP - Our story
Where it all began:
Graham and his business partner David worked together several times over the 30+ years that they have known each other and often spoke about "one day" ploughing their own independent furrow. They left their previous employment together and in July 2017 Graham and David took the decisive step to form 'Trust Business Partners', born out of the culmination of a joint 60+ years of business experience, (primarily working in telecoms and IT), their experiences helped to prepare them for "going it alone". 
The pair started out working from home and meeting in public places and soon realised that they needed a meeting place reflecting a professional business environment. David found Wenta, booked an appointment and the rest is history as they now run their business from 'The Business and Technology Centre' Stevenage, also known as the 'btc' - (managed by Wenta and owned by Stevenage Borough Council). They liked the idea of the small business community that the btc offers, set among like-minded people with a shared need for space to start out, and a hub of support for fledgeling businesses. Graham stated; "It's often a big challenge for people starting out - the isolation of being on your own. For many people it is overwhelming, and so the attraction of having others around you was compelling."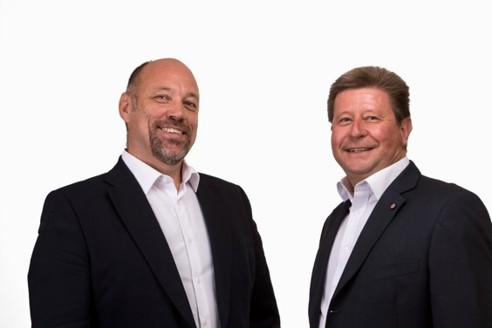 About 'Trust Business Partners':
Trust Business Partners is a boutique consultancy offering advisory and consulting services to vendors and distributors wishing to go to market in the UK and EMEA via an indirect sales channel. Helping advise on the best routes and partnerships, as well as providing the resources to start their business locally, (ahead of full-time staff being recruited in). Their knowledge of the channel model requirements and ability to "dine at the right tables" is central to the value they bring to their business engagements, also providing consultancy and advisory services to the reseller community - most notably where sales and marketing skills and awareness are complementary. 
As they have progressed, Trust discovered that their experiences were valuable beyond their initial target market, evolving into new and unanticipated opportunities, such as business brokering, operating as "a business catalyst", (as they like to describe it). Trust's partnership has even added a GDPR service offering to their repertoire - 'Gecko Compliance' - primarily for the SME market, helping businesses of all types on their journey to compliance with a greatly simplified, manageable approach.
Highlights and challenges:
Graham and David found that one of the biggest highlights of starting a business is the independence from - as they put it - "corporate stagnation". The ability to plough their own furrow without corporate structures - being able to choose flexibility over a "corporate policy strait-jacket". Being free to decide their own destination and route. David and Graham recognise that there can be a high degree of uncertainty starting a business - there is no salary, no company car, no pension and no expense account, but they have found that the benefits outweigh the challenges and they are making good progress with their business.
Graham found to be the inertia hardest part of starting a business; "Starting with nothing other than an idea, a company name, a contact book, and a strong desire to grow - no customers and no invoices to send out is both exciting and somewhat daunting, but we have remained focussed and determined that we had something of value, and have kept ourselves disciplined and busy with business development activities."
However, Graham loves being his own boss and said that he would recommend it to everyone. He added; 
""...surrounding yourself with complementary skilled people is a must - if you need help, get it. Find a coach/mentor to work with you and seek advice from experts in fields that you do not excel in. Outsource and build networks together.""
Wenta's support:
Wenta has notably helped Trust Business Partners in the form of encouragement and the opportunity to 'get involved', presenting a GDPR seminar for clients at the 2018 'btc Big Thank You Event', enabling them to position their business and what they do to a wider audience of like-minded small businesses:
"I think we have a great environment - one of collaboration, encouragement and willingness to help each other. Running events and promoting activities and networking are central to the help I have received from Wenta. The environment is one where the Wenta staff team are embedded in the daily lives of the clients, so this affords a better more integrated opportunity for communication and feedback." Graham Bunting, Trust Business Partners.
When they started the business, their focus was very much a global one, but with the addition of their GDPR service, (coupled with consulting and advisory work they deliver), added a local flavour to their engagements. This successful blend, helped by the Wenta team, connected them with opportunities to showcase their services to other local businesses that could use their help.
What to consider before starting your own business:
Here's a little advice from Graham; "Seek out critical friends - people who will not simply tell you that your idea is great, and you will succeed. Of course, we all need encouragement, but we do need a robust idea and a plan to realise the goals we imagined we would achieve. Start hard and focus with clear daily goals to build as early as possible. Plan with expectation and funding for it taking longer than you want, and do not allow yourself to be distracted, use your network of friends and supporters to keep you going when you are feeling downbeat. It happens to even the most positive people, we are all human. But do take time to reflect and exercise to help clear your mind. Also, I would say, do not be afraid to be flexible - learn daily and make sure you rest!"
Find out more about Trust Business Partners and their services by visiting their website here!