Time is a precious resource, especially for a new or growing business. Our virtual office services offer you the peace of mind that your business administration is in safe and professional hands whilst you concentrate on what's important, growing your business. 
Virtual offices available in Watford, Potters Bar, Stevenage and Enfield.
Virtual Office Packages
Designed around you
From just £10 per month...
If you require a Registered Office address only, with no postal facilities, the monthly fee is £10.00 plus VAT.
(A deposit of £12.00 is also required).
Monthly cost +VAT
 £35
£45
 £55 
£65
 £85 
£95
 £120 
£130
Deposit (one-off, refundable) Incl VAT
 £84
£108
 £132
£156
 £204
£228
 £288
£312
Features
Mailbox
Registered Mailbox

Popular

Mail Forwarding

Registered Office
and Mail Forwarding
Call Answering
Registered Office
and Call Answering
Full Virtual
Registered Office
and Full 
Virtual
Registered Office with Signage

No

Yes

No

Yes

No

Yes

No

Yes

Professional Business Address

Yes

Yes

Yes

Yes

No

No

Yes

Yes

Collect post during Office hours

Yes

Yes

Yes

Yes

No

No

Yes

Yes

Post forwarded

No

No

Yes

Yes

No

No

Yes

Yes

Receipt of small parcels

No

No

Yes

Yes

No

No

Yes

Yes

Meeting room usage

No

No

No

No

No

No

5hrs/pm 

5
hrs/pm
Call answering (in your company name)

No

No

No

No

Yes

Yes

Yes

Yes

Call forwarding

No

No

No

No

Yes

Yes

Yes

Yes
Be virtually unstoppable!
Discover our virtual office packages from as little as £12 a month (including VAT)
COVID-19 has impacted the business community in a variety of different ways. It's presented opportunities for new businesses to start-up and grow but, it has also caused many businesses to have to rethink their ways of working and make the move to work from home. Whatever your scenario, why not explore our virtual office packages offering everything from a registered address to call answering. Be virtually unstoppable and get that consistent professional image your business needs. 
Locations in: Enfield, Watford, Potters Bar and Stevenage.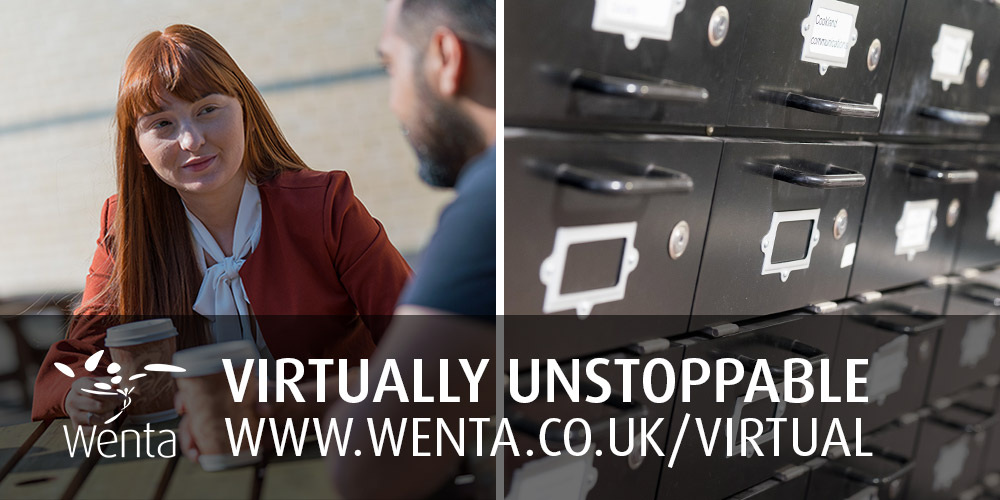 ""Brilliant, friendly, helpful and polite. We are confident to have Wenta as our first point of contact.""

Tonik UK
FREE Wenta Business Support email
Grants. Finance. Free advice and training + more delivered to your inbox weekly
For all the latest business advice, grants, news and support available sign up to our mailing list today.
;