Who are we and what do we?
Wenta is a not for profit, social enterprise that provides free, inclusive employability and self-employment skills and advice to residents and businesses. Through our social enterprise, we aim to deliver the UK's most successful, inclusive support and advice to people considering, starting, and growing their own business. Our 'zero barrier' services aim to support the local economy by:
Providing free skills training to those looking to 'upskill' or become self-employed.
Providing free advice to help business to start, survive, re-build or grown their business – creating new jobs in the local area.
Wenta is experiencing an unprecedented demand for their free business advice and support services. We are looking for a passionate, ambitious, energetic, and committed individual to join our award-winning team. You will be joining a high performing, multi award-winning organisation with over 37 years of heritage and a real focus on helping people to develop and grow their business; start or grow their own business; support people to acquire the business skills that they need.
Key Purpose of Role
Support Business Advisors in the delivery of a multidisciplinary service:

Incubator
Online
Webchat
Face to Face
Email
Telephone
Partner programmes
Workshops

Support the Business Advice and Support Team (BAST) in providing 22,000+ hours of business advice and support to our clients per annum.
Key Responsibilities:
Act as "first contact" back-up to the Business Advisors – this will involve responding to calls and emails and Live Chat taking any necessary action e.g. booking a client an appointment and updating the CRM. A client first attitude. A key aspect of this role will be to ensure that data capture pertinent to the smooth running of this first contact service is in place.
Collate data and run reports in relation to team capacity, utilisation and quality of delivery. Resource planning capability would be an asset.
Support the Client Services Operations Manager with client surveys that measure Wenta's social impact (KPI's, Client Feedback, NPS, Customer Satisfaction Surveys) Social media for business helpful. Familiarity with Hootsuite or other social media tool.
Load events and workshops onto the event booking system and ensure workshop bookings are also entered onto the database and checked for client data accuracy.
Responsible for workshop bookings, liaise with venues (includes our centres & external) & our Marketing team to ensure that the 400+ courses per year are delivered successfully.
Administer grant funding applications and ensure that relevant paperwork is gathered.
Meet responsibilities under the Data Protection Act.
Continuously develop and improve the administration function and processes and systems are aligned, flexible, efficient and effective.
Maintain the database to ensure that information is valid and in its correct format.
To meet and maintain all standards of quality as may be required contractually by Wenta and as stated in the Wenta Client Charter.
To attend and contribute to the various team and staff meetings and to be involved in other Agency activities as requested by the ERDF Project team or wider Wenta management team.
To be flexible and adaptable as travel across our whole operating area may be required
The list of above duties is not exhaustive, and the Business Support Administrator may be required to adapt in order to respond to our clients' requirements and demands and when requested by their line manager.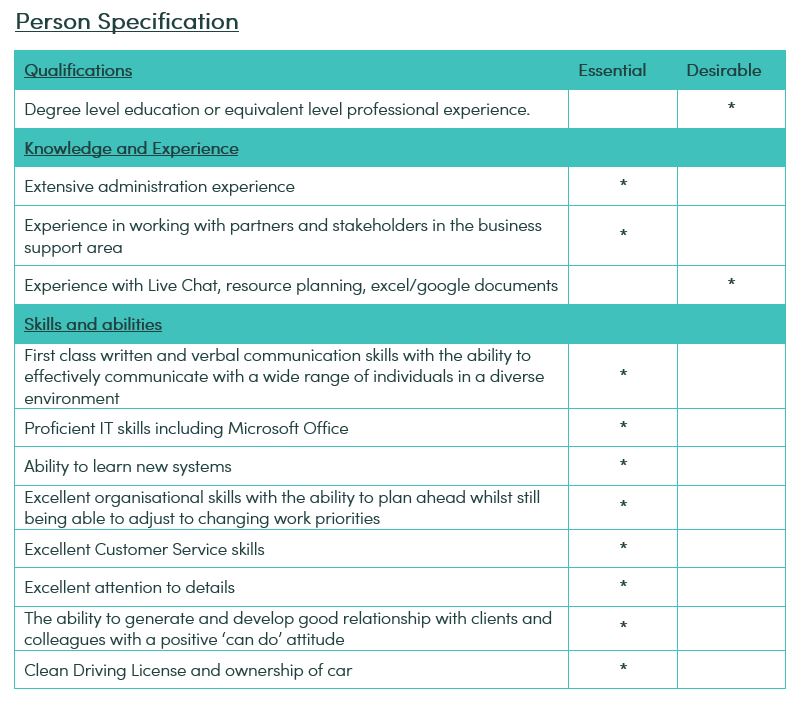 Candidates are asked to submit:
A covering letter in support of your application expressing your interest, your availability/notice period and why you think you would be particularly suited to the role.
A detailed Curriculum Vitae
Please return these documents to Parvena Begum, HR and Operations Manager: parvenabegum@wenta.co.uk 
Closing date: Friday 10th December 2021