With the launch of our brand new website just over a week ago, Wenta are extremely proud to announce that we've been selected as a Finalist for the 'Responsive Website' category at this year's Hertfordshire Digital Awards.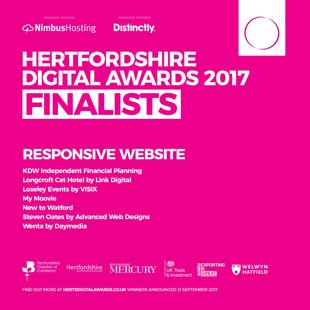 Founded in 2013, these prestigious awards seek to reward innovation and progressive thinking by businesses, individuals, events, charities and educational establishments. Their mission is to recognise businesses who have taken 'significant strides forward in their use of digital media'.
Wenta's new website was designed by one of our very own clients, Daymedia, a digital agency based at the Wenta-operated Business and Technology Centre (btc) in Stevenage. Daymedia was launched by Chris Day in 2010, offering bespoke app and web design. Since joining the Wenta community in 2012, they have received business mentoring, help with recruitment and a series of offices to accommodate the growing company.
Commenting on the news, Chris said:
In a year where The Herts Digital Awards received a record high number of entries, it's a great achievement to be nominated in the 'Responsive Website' category. This is a category in which the majority of entrants would have been eligible, one that spans across all sectors. We were delighted to have the opportunity to work with Wenta on this project, and having now launched the website I am very proud of the team for their work. Looking beyond the user experience, I think we have really captured the essence of a vibrant Wenta community. Conveying this feeling was a key objective of the project, in order to reach out to even more budding entrepreneurs.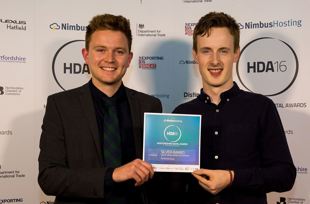 Last year Wenta picked up the Silver Award for 'Best Use of Social Media' at The Herts Digital Awards.
The new website project has been the Wenta Marketing Team's core focus over the last 8 months, ensuring that the new website is centred around customer needs and requirements. Jennifer Condon, Marketing Manager at Wenta said:
We're excited to be a Finalist in the 'Website Responsiveness' category this year. It's even more exciting that we're a finalist in partnership with one of our own clients too, Daymedia - they've been great to work with. We set out on our website project from the roots, identifying every user journey possible and creating user personas to map out the key components of the new site. To deliver the wide range of customer needs identified, we integrated a 'Find Your Way', user-led navigation system. User experience and website responsiveness, on both desktop and mobile, have been at the very core of the project.
Last year, Wenta picked up the Silver Award for the 'Best Use of Social Media' category at these awards, watch this space for news on how we do this year!

For more information on The Hertfordshire Digital Awards 2017 visit: http://thedigitalawards.co/herts-hda17-finalists-announced