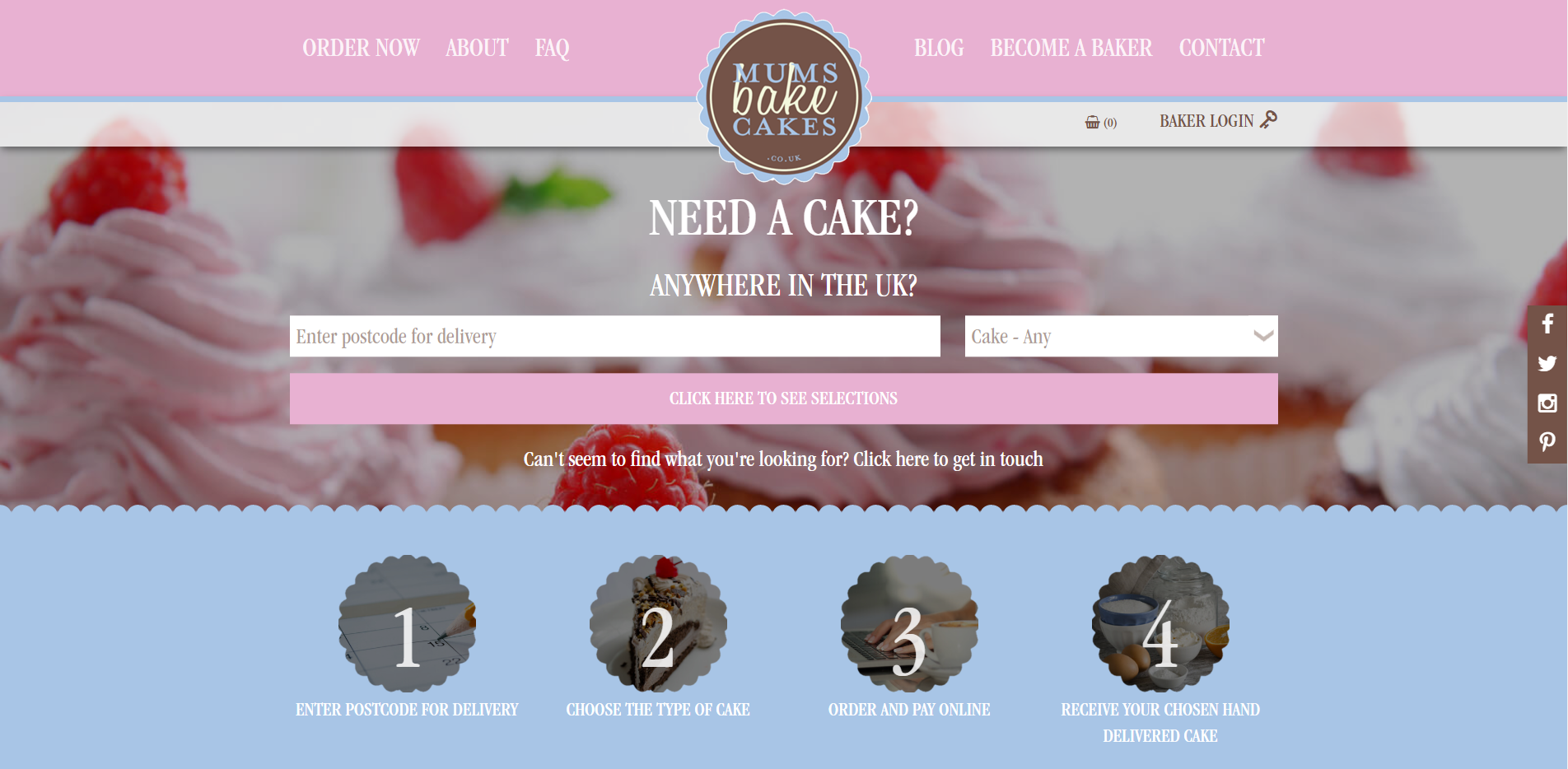 We are passionate about helping small business owners celebrate their achievements by sharing the story of their business journey. We hope that these real stories, like the one you are about to read, will inspire you and if you would like to share your journey with us please do get in touch.   
Paula Wilkinson and Richard Watson founded MumsBakeCakes. The business was created to bridge the gap between bakers and cake lovers. Bakers all over the UK have uploaded their own fabulous hand-made creations and by selecting the postcode for delivery of the cake, customers can choose from the selections available to them. 
We interviewed Paula and Richard on the 8th of March 2017. 
Could you firstly just explain to us what it is you do? 
Mums Bake Cakes is the UK's largest online cake shop, just think Interflora or Uber for cakes. We have hundreds of bakers across the UK who hand-deliver for free homemade cakes and cupcakes.  
Can you tell us about your background and what inspired you to start up your business?  
Paula has a strong sales background and I am a retired senior police officer. We have known each other for ages. The concept came from necessity, Paula needed to deliver a cake to her ill niece and couldn't source locally. Sadly, Davina lost her battle with cancer but the idea blossomed and grew into our company.  
How does your cake service work?  
Customers enter the postcode where they want a cake delivered and all the local bakers in that area are displayed.  They choose a cake, pay online and the local baker will make and deliver for free a beautiful homemade product.  
What have been the biggest challenges of setting up your company?  
It's important to recruit the right bakers from around the country. All bakers are registered and fully insured and as a new concept we need the public to think differently about sending a gift. Brand awareness is vital.  
What type of financial and mentoring support have you received?  
Proud to be working with The Accelerator Network and Ian Merricks in developing our business for investment in the next few months.  
What would you say is your proudest business moment so far?  
Proud to have won food and drink category at the Great British Entrepreneur Awards, it was completely unexpected.  
How do you advertise your business?  
We use social media for brand awareness and look to Google and Baking Magazines for sales and baker recruitment.  
What does success look like to you?  
Build a strong brand, a tasty service and help the public think differently about sending gifts  
What does the future hold? Any exciting plans we should keep an eye out for?  
We are building towards investment which will help us to really grow the business to the size the concept deserves.  
What advice would you give to other entrepreneurs looking to set up their own business?  
Join up with an accelerator mentor, their advice and guidance will save time and money further into the business.  
For further information on Mums Bake Cakes visit www.mumsbakecakes.co.uk  
Please note: This interview took place on the MiVentures platform which is owned and managed by Wenta.
We're here to help. Get in touch.  
Book your free appointment below:
;