Who are we and what do we do?
Wenta is a local, not for profit, social enterprise for Watford that provides free, inclusive employability and self-employment skills and advice to local residents and businesses. Through our social enterprise, we aim to deliver the UK's most successful, inclusive support and advice to people considering, starting, and growing their own business. Our 'zero barrier' services aim to support the local economy by:
Providing free skills training to those looking to 'upskill' or become self employed
Providing free advice to help business to start, survive, re-build or grown their business – creating new jobs in the local area.
Wenta is experiencing an unprecedented demand for their free business advice and support services. As a result of this, we are now looking to rapidly expand our talented team across London and the home counties.
We are looking for a passionate, ambitious, energetic, and committed individual to join our award-winning team. You will be joining a high performing, multi award-winning organisation with over 38 years of heritage and a real focus on helping people to develop and grow their business; start or grow their own business; support people to acquire the business skills that they need.  
Key Purpose of Role
Identify, offer and deliver a suite of support interventions and tools to ensure our clients are well supported into sustainable and meaningful business enterprise opportunities.
To identify and support individuals that request re-skilling, advice, and guidance for their business enterprise.
We are looking for a highly motivated individual to:
Act as a first point of contact to incoming enquiries and provide a relevant level of business advice in support of our Business Advisors.
Manage clients through their journey linking them with the most appropriate training, skills development and/or support for their journey into self-employment or business enterprise.
Key Responsibilities:
Respond to incoming business advice enquiries through multiple communication and digital channel (phone, email, webchat and Microsoft Teams).
Provide excellent service to all clients in line with company standard.
Undertake detailed initial client assessment.
Establishing client's eligibility for the programmes Wenta offer and able to assess client's suitability for the chosen programme.
Offering a suite of support interventions and tools to ensure our clients expressing an interest in starting or growing their own business enterprise are well supported into running their own business.
Organise client support events and partner sessions
Support clients in grant application submissions
Monitor impacts and collate outputs throughout client's journey, keeping the company's CRM system up to date.
Collaboration with the Digital, Communications and Marketing (DCM) team on Wenta's social media platforms
Meet and maintain all standard of quality as required contractually by Wenta in delivering their contracts and programmes.
To understand and monitor funded contract outputs to gauge project compliance and success.
Provide information to the client on the various Wenta programmes, the support on offer and provide a basic level of business advice and/or signposting.
Book appointments for clients into relevant colleagues' diaries.
Refer clients to partner organisations and maintain a record of the clients' journey.
Maintain knowledge with the latest funding, Government guidance and business advice topics.
Develop and expand a database of key contacts and professionals (partners) who can offer expert business advice to our clients.
To account manage clients in order to provide the highest quality service and to track their journey effectively.
To use the MS Dynamics 365 CRM system to report data.
To collate and store documents in accordance with project and contract requirements.
To work as part of a team with all staff to meet Company objectives.
To operate a Code of Confidentiality and impartiality at all times. To remain independent from any client's business ventures with no direct involvement.
To meet and maintain all standards of quality as required contractually by Wenta and as stated in the Wenta Client Charter.
To attend and contribute to the various internal and external meetings and to be involved in other Agency activities as requested by Wenta.
The list of above duties is not exhaustive, and the Business Triage Assessor may be required to adapt in order to respond to our clients' requirements and demands and when requested by their line manager.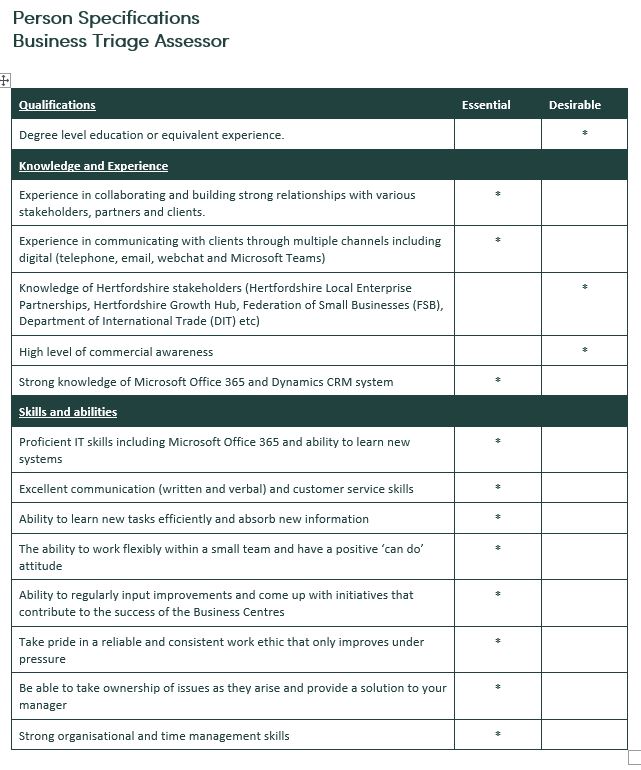 Candidates are asked to submit:
A covering letter in support of your application expressing your interest, your availability/notice period and why you think you would be particularly suited to the role of Business Triage Assessor at Wenta.
A detailed Curriculum Vitae
Please return these documents to Parvena Begum, HR and Operations Manager: parvenabegum@wenta.co.uk 
Closing date: Friday 14th January 2022