Wenta is seeking to appoint a hands-on, ambitious Financial Controller. This is a senior leadership role and will support the Wenta SMT to deliver it's ambitious strategic plans and support its mission.
This role reports to the Chief Executive and is part of a small senior leadership team and has the opportunity to influence the future of Wenta. It is also a hands-on role, in a small finance team and the ability to get stuck in, work hard and have fun is part of the way we deliver services to over 12,000 people each year.
The FC will be responsible for leading financial operations and directing Wenta financial planning and structures. This will involve creating and delivering, analysing and reporting financial performance to the internal teams, the management team and to the Board. 
This role offers an exciting challenge for an individual with a passion for supporting entrepreneurs and individuals seeking to start and grow their own businesses. The role includes a significant opportunity to:
Lead, motivate and support the small Finance Team to ensure services exceed expectations.
Act as a trusted friend to the senior management team by providing professional advice/support.
Support the strategic direction of Wenta.
This role will suit a range of applicants. You might be eager to move to the next level in finance management and looking to lead the line taking full responsibility. Or, you may be ambitious to develop your operational FC skills and experience to potentially as a step to becoming a FD, working on Board, SMT and organisational content. You may want to join the not for profit sector with an organsiation that has both enterprise and mission related operations.
Applicants will need to demonstrate the skills and experience necessary to lead and manage all financial structures and statutory requirements across a multi-site 'not for profit' organisation. Our plans are ambitious so you will be resilient, have strong interpersonal skills and will provide inspiring, empowering financial leadership. You will have the passion, energy, drive, and commitment required to help drive the organisation forward.
If you have the FC level experience required, or feel you are ready to take the next step, and have the appetite, please read further on this page to see the job description and person specification.
Job Description
Key Purpose of Role
To lead, deliver and improve all financial operations, controls and reporting across Wenta Group Companies.
Key responsibilities of role
Leadership
Reporting to the CEO, FC is responsible for ensuring the timely delivery of all finance activity.
Contribute to the development of company strategy across all areas of the business, challenging assumptions, and decision-making as appropriate.
Delivering project leadership as required.
Finance operations and performance
Responsibility for ensuring the accuracy of accounting, controls and information held in and reported by the organisations accounting system (SAGE Line 50 Cloud) for group companies.
To produce and present monthly management accounts, commentary and cash flow projections.
Pre-payments / accruals / inter-office recharges and oversee completion of purchase invoice processes.
Overseeing and coordinating the production of the year-end accounts including preparing all control account reconciliations and supporting schedules and liaising with external accountants.
Ensure all financial transactions, bank reconciliations and delegated authorities are accurately recorded, filed & reported
Raising payments to suppliers, credit card payments and reconciling statements.
Prepare group balance sheet.
Prepare and submit VAT, PAYE, Pension, and all compliance related schedule in a timely manner, ensuring robust systems and compliance.
Updating, reviewing, and documenting the organisation's financial policies and procedures.
Change, Challenge and Improvement
To constantly challenge and seek improvement within the finance team and across the organisation.
Act as an internal coach and referral point for financial expertise, providing professional advice and support.
Managing People & Teamwork
To work in a collaborative and entrepreneurial manner to support and drive income generation.
Work with senior teams to grow the business, formulating strategies, preparing new business cases, supporting funding applications and plans.
The list of above duties is not exhaustive, and the Financial Controller may be required to carry out other duties which are not listed above as and when requested by their line manager.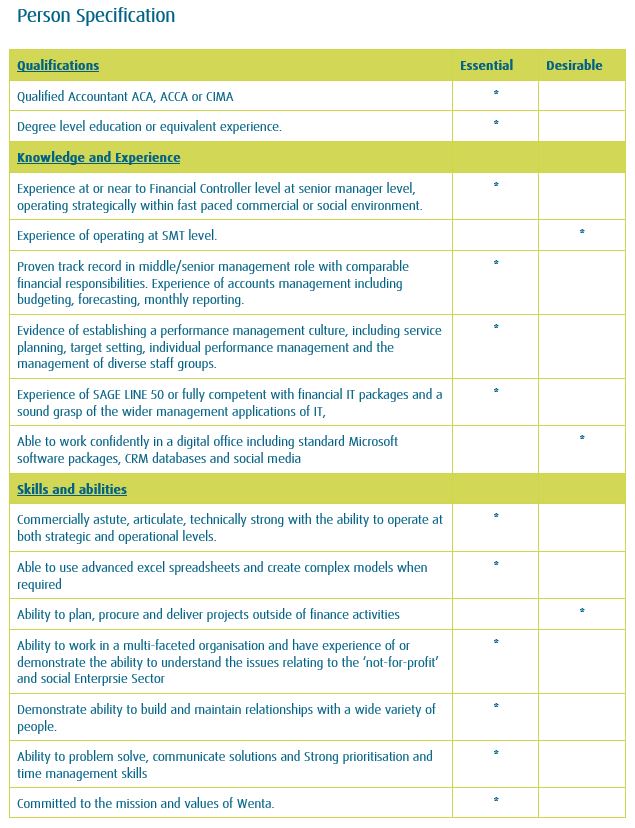 Candidates are asked to submit:
A covering letter in support of your application expressing your interest, your availability/notice period and why you think you would be particularly suited to the role of Financial Controller at Wenta.
A detailed Curriculum Vitae
Please return these documents to

[email protected]

no later than 12 noon on the closing date of 29th May 2020
Interview Process
Closing date for applications is 12 noon on Friday 29th May 2020
Telephone interviews will take place week commencing 18th May 2020
First Interviews will take place week commencing 25th May 2020
Second Interviews will take place week commencing 1st June 2020
If you would like to discuss any of the details or documentation associated with this role, please contact Parvena Begum, HR Advisor: [email protected]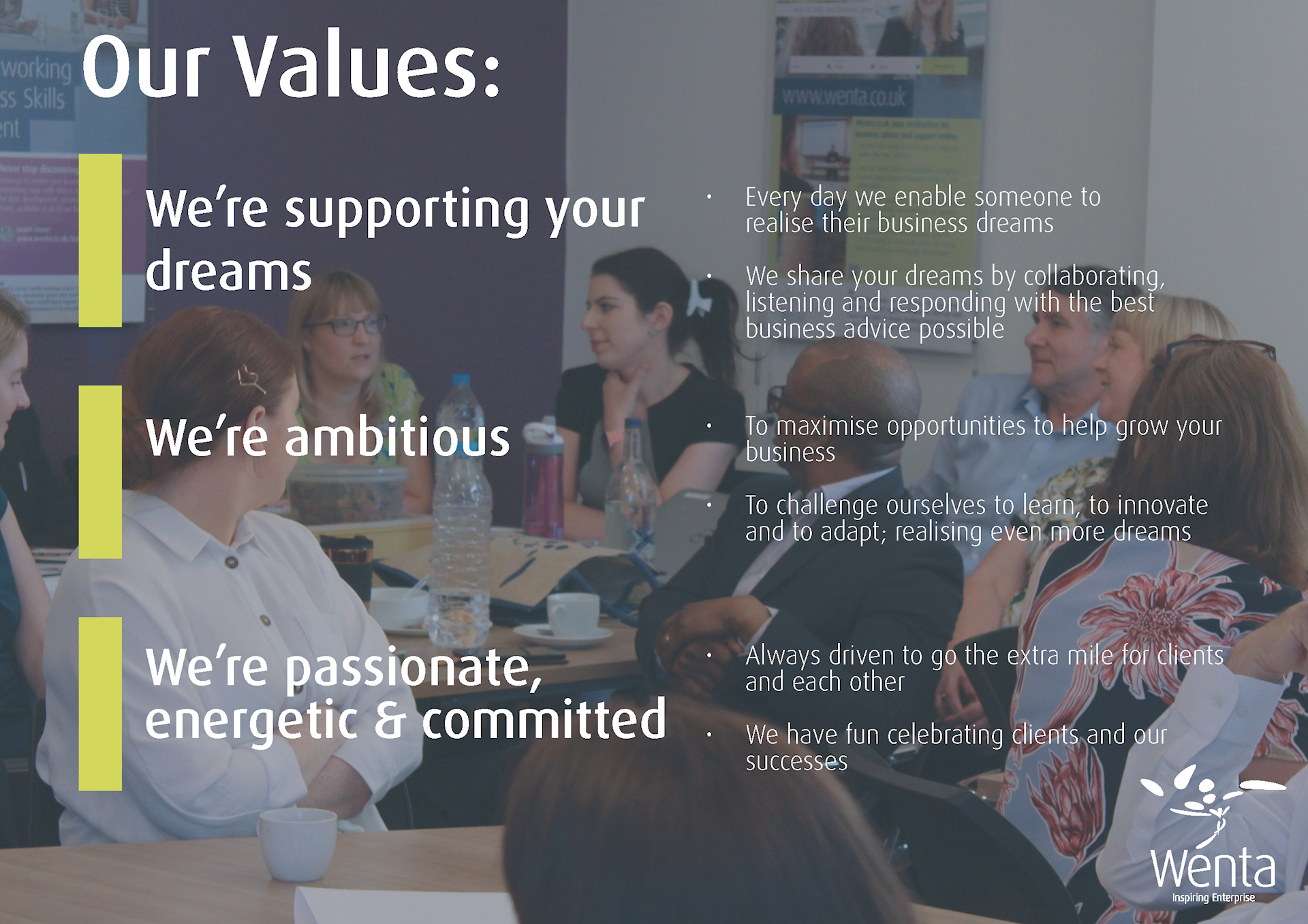 What's in it for you?
Working at Wenta
Passion runs in the blood of Wenta employees. We are a team of passionate do-gooders, inspired to help small businesses and entrepreneurs reach their potential. Work alongside other motivated people who care about making a difference and achieving a shared vision.
We're a friendly bunch at Wenta. We hold at least one Wenta social event every year, be it a Christmas party or summer BBQ. In addition, our teams have regular social events as well as frequent community events which are great opportunities to meet, and network with, our customers and colleagues.
8 bank holidays per year plus 25 days of annual holiday (reviewed in 2021 to be returned to 30) which includes a closed office over the Christmas period. Plenty of time to rejuvenate and relax. We also provide Life Assurance (2 x annual salary), pension, season ticket loans, professional subscriptions, eye tests, flu vaccinations and recruitment referrals payments to name a few.
We are committed to the ongoing training and development of all our employees and employees have access to our Wenta training courses too. We invest in our people and our people invest in us.
We are led by a strong board of non-executive directors who are dedicated to making a difference to the small business community. Each an expert in their particular field, our board has a comprehensive variety of expertise and ensures Wenta's social purpose is first and foremost in everything we do.
Be part of a social enterprise that changes people's lives. Working at Wenta, you will be helping passionate entrepreneurs and start-ups make their dreams come true; it's a special vision to be a part of and Wenta is a special place to work.